Come t'Burnley Market was produced in a day on Saturday 5th October 2019 as part of Burnley Literature Festival, produced by Culturapedia. Writing Squad writers Gabriel Evans, James Giddings, James Varney and Lenni Sanders worked with local students Luckie-Rae Pepper and Nicole Stephenson. They talked to people who working in the market, took their photo, then wrote up their stories.
Sue Robinson of Culturapedia writes …
This is the fourth Burnley Literary Festival, but Culturapedia's first time running it. We like to put on high quality arts events which have community ownership and relevance.
The festival was set up by Town Centre Manager, Catherine Price, to increase footfall and challenge people's perceptions of Burnley. She did a great job getting it going – a real labour of love. 
We worked with Catherine last year running a storytelling festival and when she left her job in March, she asked us to take over the festival for this year.
We were a little daunted. We had to talk to a lot of people to find out how to make it work for us in the time we had as a company and for Burnley, 
The Markets team were keen that we include their space in the festival.They're a great team. It's a marvellous flexible place for a festival! It's also warm, safe and indoors – really important factors in October! We brought in pop up book stalls, built a cosy authors' stage.
People we spoke to on the day loved it – the bunting, and the atmosphere. It felt like a proper writing village.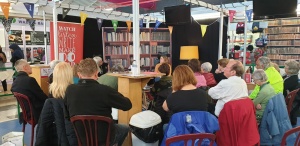 It seemed right to have poets and writers speaking in amongst the stalls. We also fed the artists from the food market. I loved seeing a publisher selling her books whilst devouring noodles, it seemed so incongruous but also normal and human. Books and noodles,why not?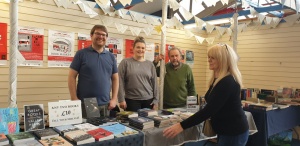 One artist  said: 'I loved the venues, the decor, the small, cosy feel of it all. It made conversations with people easy and had a community feel.'
The Writing Squad is the development programme for young writers in the north of England.
Every two years they recruit 30 writers aged 16-21 and provide workshops, one to one support and professional investment, continuing to support them beyond the two years as they begin their professional careers.
The Squad's core team is Steve Dearden, Emma Adams, Jenn Ashworth, Malika Booker and Stevie Ronnie and they bring in leading writers to deliver their workshop programme.